Visit

Basque

English

French

Spanish

World tour 2007
Info
Gallery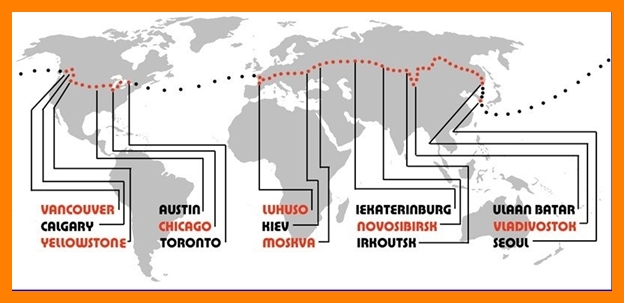 MOTOGLOBO 2007 : the motorbike worldtour in 80 days :

To Realize the Worldtour in 80 days, here is a dream of childhood which looks back to us on the good moments spented reading Jules Verne's adventures. At this beginning of the third millennium, the trip is technically easier to carry out, but it is still an adventure which few persons realize.

There are various ways of achieving this dream. For this project two factors are taken into account. Initially the tool: The motorbike is representative of the concept of adventure and freedom. Then duration: 80 days, just like Phileas Fogg, to prove the feasibility of such a project.

I started the adventure the 13th june 2007 and ended the 30of august, so 78 days, 2 less than Phileas Fogg !

24 000 kilometers (with more than 3000 off road) by : Europe, Rusia, Mongolia, Siberia, Korea, Canada and United States.

THE TRIP

4 phases: Europe, Asia, Canada, The United States

Europe :

First transitory and rather long stages (between 700 and 1000 km per day) the goal being to arrive to Russia without waste of time.

Asia:

The great unknown, with more than 3 000 kilometers off road.

Initially the European part of Russia. Then Tatarstan, the great Baikal lake, Mongolia (i arrived just for the Naadam festivities), Siberia, then the most uninhabited part of Russia. 3000 kilometers of muddy tracks with multitudes of rivers without bridges which make the crossing impossible for the common vehicles. From Vladivostok to South Corea by ferry and then, I stayed one week in the very surprising city of Seul.

Canada:

Arrived at Vancouver (Canada) by plane since Corea. The motorbike arrived 12 days later... so I took time to visit Vancouver, Grousse Mountain, Victoria ... The crossing of Canada to the United States was by borrowing the Rocky Mountains. Omnipresence of nature had marked the crossing of these lands.

The United States:

Last part of the tour. The route, from the West coast to the East coast, by the National park of Yellowston (really impressive !). The last part of the travel have been by Chicago and Detroit before going to Toronto in Canada.

I came back home flying from Toronto to Paris, and then driving until Luhuso (Basque Country). .

ETAPS :

Part 1 : Luhuso - Kiev (Ukraine) 3785 km in 5 days

Part 2 : Kiev - Moscou (Russia) 840 km in 1 day

Part 3 : Moscou - Tcheliavinsk (Asian part of Russia) 2075 km in 5 days

Part 4 : Tcheliavinsk – Ulaan Baatar (Mongolia) 5775 km in 15 days

Part 5 : Ulaan Baatar – Khavarovsk (Siberia) 4030 km in 11 days

Part 6 : Khavarovsk – Vladivostok (Russia) 790 km in 1 day

Part 7 : Vladivostok - Séoul (South Korea) Via ferry, 240 km in 6 days

Part 8 : Séoul – Vancouver (Canada) Via Air, 6 days

Part 9 : Vancouver – St Régis (Canada) 955 km in 12 days

Part 10 : St Régis – Yellowston (USA) 700 km in 1 day

Part 11 : Yellowston – Iowa City (USA) 2700 km in 6 days

Part 12 : Iowa City – Toronto (Canada) 1230 km in 3 days

Part 13 : Toronto – Paris (France) Via Air, 4 days

Part 14 : Paris – Bayonne (Basque Country) 860 km in 2 days

Real distance : 24 000 kilometers in 78 days, 7 hours and 45 minutes !