Visit

Basque

English

French

Spanish

Dakar trip 2009
Info
Gallery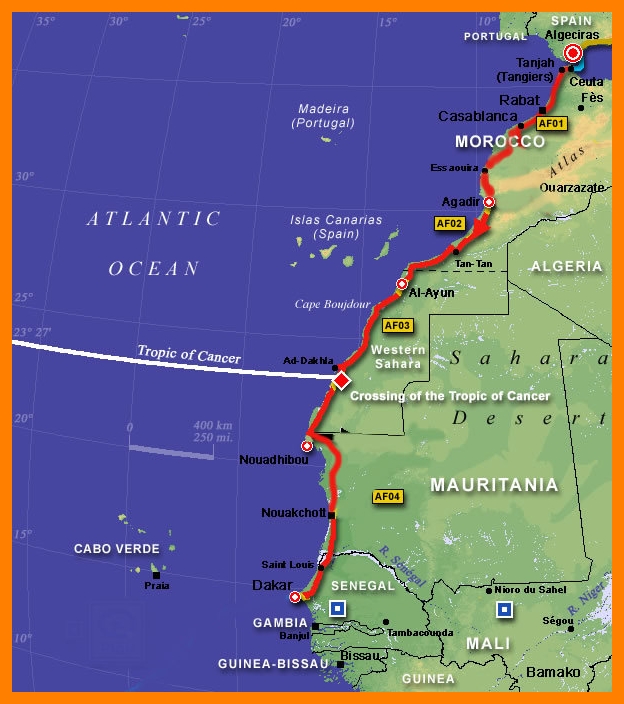 On 2009 I decided to ride in Afrika. I've never been there, so for the first time, I planned an esay trip in the nothe west Afrika.

The travel : Marroko, Sahara, Mauritania and Senegal until the well knowed city of Dakar. 10 000 km in 3 weeks.

I made the travel on march (best weather season). The day after I've leaved the Basque Country I was in Tanger (via ferry from Algeciras). The first days, I tried to escape from the main turistic places and I really enjoyed in the places I've been in (Safi, El Ouatia, Dakhla).

In the "boring" border between Marroko and Mauritania, where I waited 5 long hours, I made a new friend : Juan (also from the Basque Country). I was very lucky to meet him and his Mauritanian friends.

We spend 4 days all together in the desert and in the Arguin's national Parc.

The only places I could visit in Senegal were Dakar and the Goree island (this island is nice and peacefull unlike the city of Dakar). Coming back to Mauritania, I found 3 bikers from Catalunia and we spend 6 days traveling together (Llaurens, Siso and Xabi, from Girona). After crossing Mauritania and the Sahara coast, we started riding in the Antiatlas mountains, way to Marrakesh when we had an engine problem in Xabi's motorbike. Instead of Marrakesh, we've been in Agadir (long beach and good weather, but not so interesting city). The last day was in the very nice city of Essaouira. 2 days after, I was at home.