Visit

Basque

English

French

Spanish

India trip 2009
Info
Gallery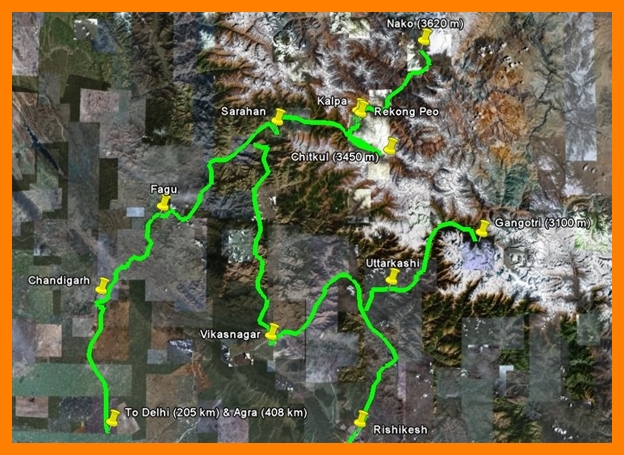 I've had this trip in mind since I came back from the Scandinavian tour in 2004. When Llorenç (another crazy traveler that I meeted this year 2009 while riding to Dakar) told me that he "had to" travel somewhere in Asia this same year, I convinced him to ride in India.

We started the travel the first October 2009 flying from Barcelona to Delhi and then, after renting 2 indian motorbikes, we rided up to Spiti Valley. We travelled nearly 2 weeks with the bikes (Royal Enfield 350 and 500 cc.) and for the last part of the trip, we went to Agra to visit the famous Taj Mahal. It was an 17 days great trip riding over than 2100 km.

We wanted to ride all over the Spiti Valley (in the Hymalayan part of India) but we only managed to arive until Nako. At this point, like it happens very frecuently in this roads, the mountain came over the road and we could stay blocked there a few days before continuing our route. Insteed, we decided to go to Gangotri (where the famous Gange river starts) and discover an less touristic part of India. Landscapes and the contact with local people has been a great experince, indeed.

We enjoyed our last days in Agra (after leaving our rented bikes in Delhi) and managed to visit the fort, the main bazar and, of course, the magical Taj Mahal.

Here some feelings we had from our north indian trip :

- As you can see in the pictures, the landscapes are really beautiful.

- We have been very well received everywere. Indian's are really great (even if sometimes, in the big cities or in the railway stations some "helppy" people are a bit enoying ...).

- The food was very tasty and excelent but very hot also (too much spices).

- Good weather in the mountains (but cold by night) and hot in the main cities (over 30°), we only had a couple of days rainning (few hours each time).

- The roads: how can we say ... Indian's are like Dr Jeckil and Mr Hide : zen attitude at home but real killers while driving. I've never drived in such chaotic country, it's crazy !!!

- The Royal Enfield motorbikes : very nices, very light weight but so ... how can I say ... poor reliability !!! (every day we had at least one or two mechanical problem). Anyway, the bikes are so simple, that it's very easy to fix them and in India you can find spare parts anywere (and the prices are very very cheap).

- Cost of travelling : India is a very very low price country (for us, of course). A good meal in the mountains cost around 1 euro. Night in a gesthouse between 3 and 8 euro (between 12 and 25 in the cities). Fuel is around 0,75 for one litter.

- We also noticed the importance of the religion. Hindouism (and Boudhism in the Hymlayan part) are present everywere : in the cities, little villages or even in the middle of the roads you can find some temples or diferent statues (Shiva, Geshna, Krichna, Vishnu, Brahma, ...). In the few days we had been in India we saw no less than 3 religious festivals.