Visit

Basque

English

French

Spanish

EEUU 2010
Info
Gallery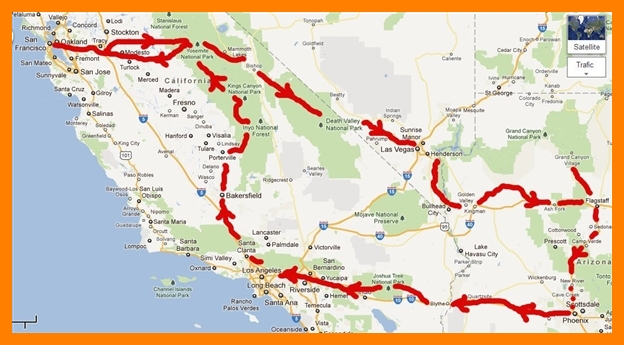 Llorenç (my Catalan travel friend) had the idea of going to the south west of the USA. In my last 2 travels (India & Dakar) I've had so good experience traveling with him that I've accepted to spend there 3 weeks without any kind of reserve.

I've reached L.A. at mid octobre where Llorenç was waiting for me. After 3 days looking for a low budget Van to buy (Thanks Moises !), we leaved the "bling-bling" of Hollywood.

We shared parts of our trip with some other friends : From Los Angeles to San Franciscorat with Julie and Ulrichekin (sister and brother from Belgium) and from San Francisco to Los Angeles with Carmen (from Ibiza)

Here some impressions of what we've seen in this 3 weeks (4200 Km) :

- Los Angeles and Holywood : A little bit disapointing for us (maybe we haven't been where we are suppose to be ...

- Sequoia Park and Yosemite NP : Very nice, marvelous trees and many places to walkin (f.e. : Hetch Hetchick).

- San Francisco : We enjoyed more than in Los Angeles. We've liked walking in the quiet streets, parks and, of course, the famous Golden Gate bridge !

- Death Valley : We've been lucky enough to enjoy it at the ideal tenperature. We've liked : Darwin Falls, Mesquite Flat Sand dunes, Badwatter, Artist Palette, Golden Canyon and Zabriskie point.

- Las Vegas : I think that it's a place to see at least once in your life. It's so ... so ... so ... (well, better if you see it by yourself). Ah, we didn't spend any dollar at the games !

- Rt 66, Williams : We took the "road-to-drive" until Williams and had a great surprise when we met 2 basque guys : Andoni and Juan Mitxelena. We've shared with them the night befaore "Halloween"...

- Gran Cayon : Too fast visit ! I think it worth to spend at least 3 days there and make a good trecking.

- Sedona Red Rock park : we've sprend a great day walkin in this marvellous park.