Visit

Basque

English

French

Spanish

Rumany and Moldavia 2011
Info
Gallery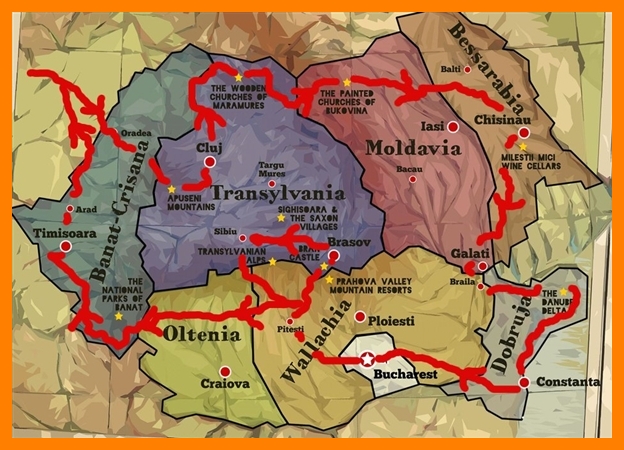 Two friends talking (Llorenç and Mikel) :

- We must travel again !

- Great, but I don't want to take a fly...

- So, we could travel in Europe and by motorbike (of course !).

- Ok, but I would prefere to visit the western European countries.

That's how we decided to go to Romania and Moldova. Well, at the begeinning we where thinking about crossing different countries between Ukraine and Albany but never mind, our final choose was the right.

Llorenç use to tell me that Romania remenbered him the "Eurovision" tv show ... Romania : 2 points !!!

Having completed the trip we must say : Romania 10 points !!

22 days, 9640 Km by motorbike, 4 hours raining (in 22 days !!) and some places we've been :

- Visiting some friends during the first week : Cogolin (near St Tropez very well received by Charlotte, Gloria and Guillaume, Loreo (with Simone the great traveler), Wienn (short but great time with Burgi). Thanks to all !

- Apuseni national park : That was our first days after entering Romania by Oradea. A wonderfull place where you can spend all the time you want enjoying the nature around ...

- Maramures area : in Sapanta we liked the colourfull cementery and the typical wooden monastry. In Viseu de Sus we made a train trip in the singular Carpathian forestry.

- Bocovina area : After crossing the wonderfull mountain road, we've seen another landscape and architectures. For exemple the particular monastries where the outside walls are covered by religious paintings (we really liked the Suceavita's monastery).

- Moldova : Can you tell the name of the Moldovian main city ? Don't worry, Chisinau is not a-place-to-be city but we liked the Stepan street and specially the national Theatre (we've seen a great theatre piece in ... Moldavian !). We also enjoyed crossing the south of the country.

- Delta of Danube and the Black Sea : A great area for all kind of migration birds. We went by a little boat to see hundreds of them from Murighiol. In the other hand, the famous city of Constanza was not as beautifull as we expected ...

- Transylvania : From Curtea de Arges we made a lilttle trip to Brasov and crossed the Transfagarasan mythical mountain road. The second day, we where invited by the gesthouse family to see how they kill a ... Bull !! (like in the Basque Country we use to do with the pigs !).

-Venezia :Wonderfull ! A great way to end this unfrogettable trip.